What is a face lift and MIFACE?
A face lift is a type of cosmetic surgery that tightens the facial skin, thereby removing unwanted wrinkles. The visible signs of aging that occur throughout the course of our lives can be due to a variety of reasons, such as environmental conditions, stress, heredity, or even gravity.
Minimally Invasive Face and Cervical Elevation (or MIFACE), developed by The Lotus Institute's very own Dr Peter Widdowson, provides an alternative to a full facelift and targets just the neck and lower face. It can be performed under general anaesthetic with just a day stay in hospital needed to complete the operation.
Our clients have shared their face lift before and after photos – clients have consented to share these photos and they have not be altered in any way.
Who would be considered for face lift or MIFACE surgery?
If you are looking to improve the overall skin elasticity and muscle tone in your face and neck, then you may be a good candidate for face lift or MIFACE surgery.
If you have noticed loss of skin tone or sagging and contours appearing around your neck or chin, this surgery may be of benefit to you.
As with most surgery, candidates should be in good health, follow a regular exercise routine, and maintain a balanced diet.
For those candidates considering MIFACE surgery, you would be looking to target your neck and lower face during this less radical operation.
How can scars be minimised?
Incisions for face lift surgery are usually made behind the hairline at the top of the ear and extend to the bottom of the ear so that the incision remains hidden behind the ear. This being said however, it is important to discuss your expectations with your surgeon so that you are completely aware of where the scarring may occur. Caring for your scars post surgery will involve at home treatment which will be discussed with you in detail during your pre-operation consultations.
What is expected after your face lift surgery?
Most of the discomfort you may feel after your face lift surgery can be managed by oral medication and sutures will be removed around 10 days post-surgery. You will also start to notice that swelling will decrease in about 2-3 weeks after your face lift surgery. If you have a desk job then you could potentially return to work after about two weeks and although you might still feel sore or stiff, you should be able to manage quite comfortably. Face numbness may occur as your sensation recovers, however this is temporary and will go away over time.
What are the potential risks associated with this surgery?
There are risks and possible complications associated with any type of surgery, and undergoing a face lift or MIFACE operation will involve a certain amount of risk. Although the surgeries are quite safe, it is important that you discuss any and all concerns with your surgeon during your consultations. With this particular type of surgery you may notice swelling, bruising, nerve damage, and quite possibly infection. Following a pre- and post-operation instructions and care routines will go towards helping avoid potential risks and supporting a quick recovery.
Pre-operation requirements
Prior to your facelift on the Gold Coast, you will be actively involved in consultations with your surgeon. They will discuss your medical history, any allergies, and what you are looking to achieve from your surgery. Through a thorough discourse and in-depth facial examination, our team will create a tailored treatment plan to help restore your youthfulness — all while managing expectations to ensure we can deliver a natural yet taut and lifted face and neck that maintains symmetry between your facial features.
Before your facelift surgery, we will discuss any medications you may need to cease consuming two weeks prior to surgery. Some of these medications include aspirin-related drugs, including over-the-counter medicines, Vitamin E, blood thinning antioxidants, fish oils, herbal extracts and other supplements. Your surgeon will also take 'before' photos for your medical records during consultations.
If you're a smoker, there is an increased risk of post-surgery complications. To ensure your health and youth-giving MIFACE facelift, we strongly recommend abstaining from smoking before and after your facelift on the Gold Coast.
After the facelift surgery, our team of highly trained experienced nursing and patient care staff will help you with post op recovery.
Most of our clients heal well after undergoing a facelift in Brisbane and can enjoy their refreshed look in a number of weeks. To help ensure a smoother recovery, we recommend the following:
Observe all after-care recommendations provided by your surgeon and team
Allow your body to rest so you can heal without post-surgery complications
Avoid smoking for up to three months
Avoid exercise for six to eight weeks post facelift surgery
Wear compression and support garments
Avoid lifting heavy items for the first four weeks
Avoid consuming alcohol
Looking to secure facelift surgery in Brisbane or the Gold Coast and achieve transformative results? Review our client's before and after photos below :
What do I need to know before booking a consultation for a face and neck lift surgery ?
Anyone considering cosmetic surgery from 01 July 2023 will need to provide a GP Referral to their Plastic Surgeon. In addition to this, the patient must attend 2 consultations with their Surgeon, including one face-to-face consultation. This face-to-face consultation with your Surgeon must be at least 7 days before the day of your procedure.
How much does a face lift cost?
The price of our plastic surgery services will largely depend on your unique case. Costs include the surgeon's fees, as well as all necessary pre- and post-operational care, anaesthetic and theatre fees. Indicative pricing will be discussed upon completion of your initial consultation.
---
Lift and sculpt your face with the best facelift surgery at The Lotus Institute
As one of the Gold Coast's premier Plastic Surgery clinics, The Lotus Institute can help you achieve a lifted and taut face and neck that enhances your natural beauty. Whether you're looking for cosmetic surgical procedures or non-surgical treatments, our decades of experience and specialised techniques will draw out your natural beauty with a little extra help. If you want to learn more about our procedures, contact us today — our expert team is happy to help.
A facelift works by tightening underlying muscles, removing excess fat, gently redraping the skin of your face and restoring the contour of your neck. This gives you a smooth jawline, reduces jowls, but doesn't change your normal expression.
The result can be either a change of appearance or a fresh, rejuvenated look.
A facelift is often combined with other ancillary procedures such as eyelid surgery, a forehead or browlift, liposuction (to remove fat), nose reshaping, removal of skin blemishes, laser resurfacing and/or chemical peel treatment.
Although a facelift and ancillary procedures can produce a harmonious, fresh appearance from forehead to neck, not all wrinkles, furrows and folds will disappear – especially those of long standing where there is some permanent skin damage.
---
FAQs
What is a MIFACE face and neck lift?
A MIFACE face and neck lift surgery (platysmaplasty) is a transformative aesthetic surgery enhancement exclusively developed by The Lotus Institute's Peter Widdowson MB chB FRACS. Our unique procedure uses discreet and hidden incisions behind the ears and hairline and harnesses various techniques, including laser skin resurfacing and fat grafting, to lift and tighten your lower face and neck skin.
The Lotus Institute's face and neck lifts (platysmaplasty) on the Gold Coast offer a less invasive alternative to traditional facelifts that are designed to tighten the facial skin and reduce the visible signs of ageing.
Am I a good candidate for a MIFACE facelift?
People with sagging skin, diminished skin elasticity and experiencing a decline in muscle tone, specifically in the lower facial region, are more likely to observe the most notable outcomes through a face and neck lift surgery (platysmaplasty).
The MIFACE facelift is designed to address common skin and face structure concerns, including jowls, double chins and lifting and tightening loose skin. It's also an alternative to enhance the definition of your jawline and chin contours.
If you're interested in discovering the possibilities and benefits a MIFACE face and neck lift (platysmaplasty) can offer, feel free to get in touch and our team of qualified plastic surgeons will be happy to discuss what results you can expect to achieve.
What can I expect during the recovery period after a MIFACE facelift?
As a MIFACE facelift is a day surgery requiring only general anaesthesia, you can expect a quicker recovery than a traditional face and neck lift (platysmaplasty). Any residual pain can be managed with general medication. Within two to three weeks, you can expect swelling and bruising to have subsided, enabling you to return to work and other light activities.
At this time and up to three months post-surgery, we recommend avoiding smoking and drinking alcohol, participating in intense sports and lifting heavy objects. During your consultation and before your neck lift (platysmaplasty), our expert team will detail all potential stressors you should avoid to ensure you get the best level of care.
How long do the results of a MIFACE facelift last?
Our MIFACE face and neck lift surgery (platysmaplasty) delivers lasting results for several years to come with regular maintenance from skin relaxants like anti-wrinkle injections. However, it's not impervious to the ageing process or from experiencing the effects of weight gain, which can change the contours of your newly defined face.
Is the procedure painful?
No — our expert team will best manage your care during and after your procedure with a general anaesthetic and medication. While the treatment isn't considered painful, some discomfort is normal, like any aesthetic cosmetic enhancement.
What are the potential risks or complications associated with a MIFACE facelift?
As with any aesthetic procedure, there are potential risks and complications associated with a MIFACE face and neck lift (platysmaplasty). While they are rare, they can occur. Some possible risks include allergic reactions to the anaesthetic, asymmetrical results and nerve damage.
Can I combine a MIFACE facelift with other reconstructive and aesthetic procedures?
Yes — many patients opt to include non-surgical treatments such as anti-wrinkle injections and dermal fillers in the forehead and around the orbital bone. Contact us for more information or to discuss this procedure further.

Face Lift before and after photos
Each of our clients has consented to share their photos and these images have not been altered in any way. With exceptional results and minimal scarring, facelift surgery can refresh and restore your complexion and only requires a day's stay in the hospital.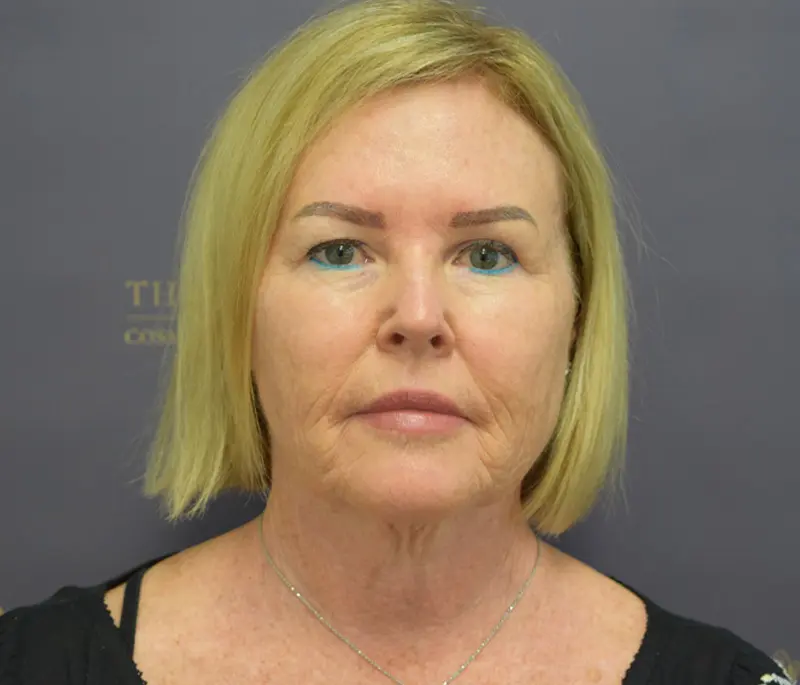 Patient 1: Before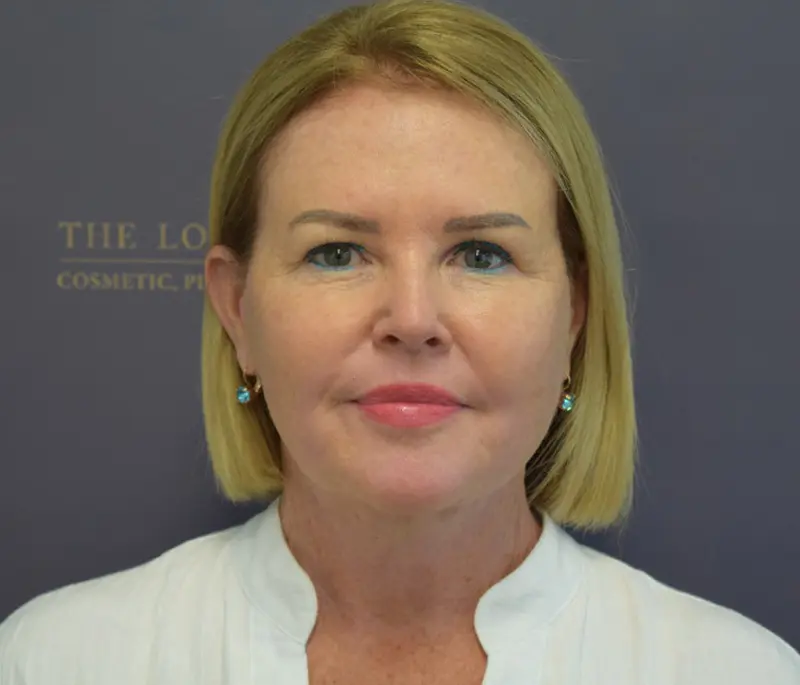 Patient 1: After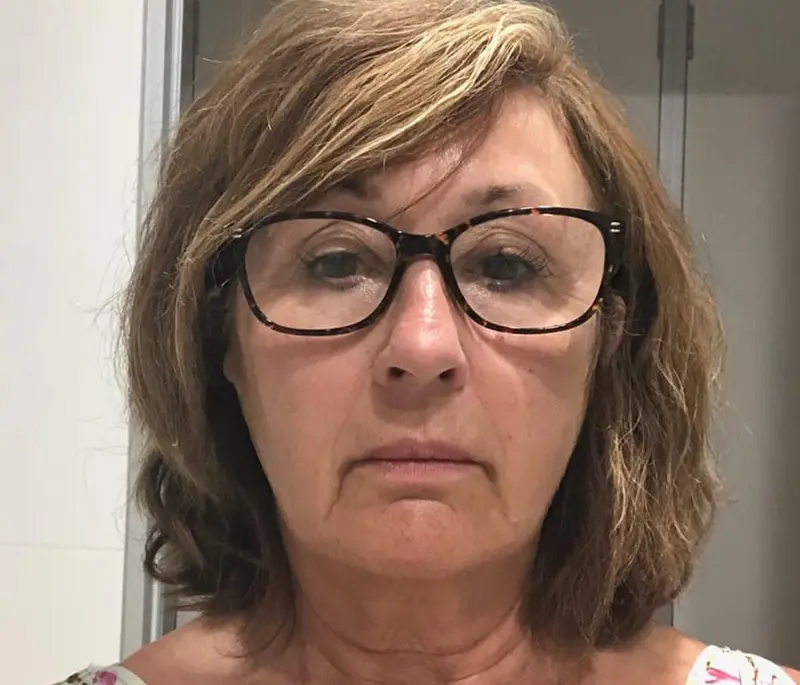 Patient 2: Before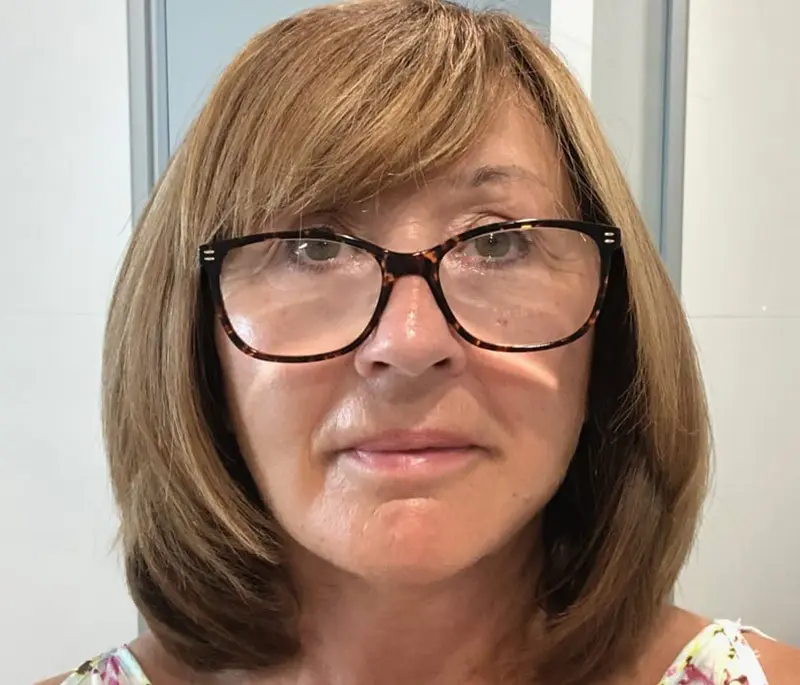 Patient 2: After