A-Z for the SKIN
The skin is our body's largest organ, made of water, protein, fats, and minerals. The skin protects us from germs and regulates body temperature. Nerves in the skin help us feel sensation such as hot and cold sensitivities. The skin also supports our vitamin D stores.
The skin is made up of two main layers: The Epidermis & The Dermis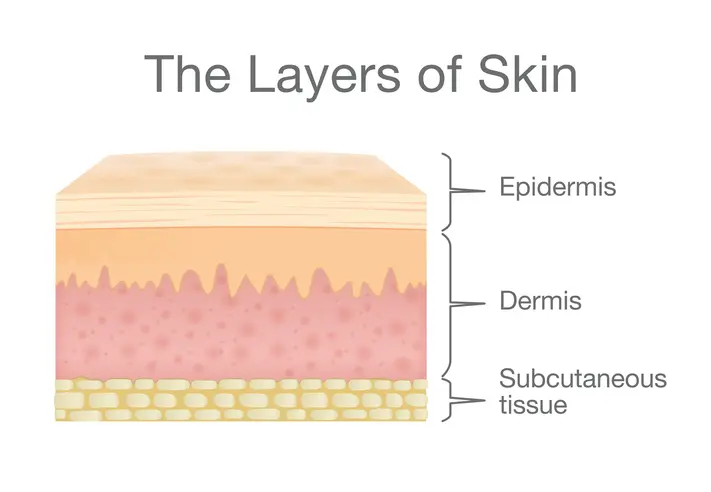 The outer layer of the skin (epidermis) is mostly made up of flat, scale-like cells called squamous cells. Under the squamous cells are round cells called basal cells. The deepest part of the epidermis also contains melanocytes, cells that produce melanin gives the skin colour.
Regardless of our skin colour it is always important to have the appropriate sun protection such as SPF30 or higher . (Uberzinc by Synergie Skin is recommended with 21% Zinc Oxide with moisturising, healing, SPF & UVB protection)
Here at The Lotus Institute, we advise our clients and recommend products to help nourish, heal, moisturise, protect, hydrate, and exfoliate the skin. Our A-Z skin kit is one of our products recommended with the A, B, C serums, UltraCleanse cleanser and UberZinc for ultimate sun protection. This is a great sampler for patients who are new to Synergie but also makes for a terrific way to protect your skin while touring as the packaging is travel size.
It is always recommended we have regular skin checks with a qualified skin specialist to check for any sun damage, skin cancers or melanomas. It is a priority to attend to any skin issues due to sun exposure or other outside elements that may harm our skin.
Skin in the Media
Recently Channel 7 aired a very important documentary called Skin Deep by Deborah Hutton. Deborah Hutton, media personality, who herself underwent skin cancer surgery to her face, talks about the importance of maintaining good skin health protecting the skin from the sun and UV exposure with simple steps such as wearing a hat and skin protection. Deborah Hutton talks with a diverse group of people, with different skin types to discuss their experience and journey, through exposure to the sun over the years, which attributed to their skin cancers.
Skin cancers are not exclusive just to the older generation but also to younger Australians, where there has been a higher number of cases of melanomas in people from the ages of mid-twenties to mid-thirties in recent years.
It is highly recommended to watch this documentary to learn more about the importance of your largest organ, the skin. Please click on the link to watch this important documentary.
Out of this documentary came the wonderful news, of a new hospital to be built in Melbourne for the further research, treatment, and study of melanomas.
Skin Consultations
At The Lotus Institute we provide skin consultations for our patients who have undergone facial procedures. During the skin consultation, we will recommend medical grade products to help aid in healing and scar management and continue to guide our patients through their post-operative period. We will also educate our patients on how to maintain good skin health.
Skin nutrition is also very important and a good diet high in antioxidants helps support the skin from the inside out. Some of these antioxidants are:
Zinc
Vitamin C
Vitamin D
Probiotics such as Yoghurt. Also fermented foods such as Sauerkraut, kimchi.
Vitamin A
What we offer
The Lotus Institute performs many different skin and facial skin procedures. These include:
Skin Cancer Surgery
Face & Neck Lift Surgery
M.I.F.A.C.E (Face Lift)
Ear Surgery (Otoplasty)
Upper and Lower Blepharoplasty
Lip Lift (Upper Lip Reduction)
Mini-Facelift
At the end of May we introduced into the Face & Neck lift surgery an inclusive package of the A-Z Skin Kit from Synergie, two IPL Laser, Light Rejuvenation or two Laser Genesis treatments.
Post operatively we can arrange a complimentary Skin Analysis to determine readiness for a tailored skin care regime that compliments your surgical experience with The Lotus Institute.
The Synergie Skin A-Z Kits consist of:
Vitamin A- which stimulates collagen to reduce fine lines and wrinkles.
Vitamin B- that hydrates and is an award-winning formula with 13% niacinamide and increases skin immunity.
Vitamin C- that is a non-acidic formula ideal for sensitive skin, and boosted antioxidant protection, brightens uneven skin tone and is lightweight and fast absorbing. It also supports collagen production and reduces fine lines.
These magnificent serums along with UltraCleanse and the ultimate skin protector, Uberzinc are included in the A-Zinc kit to set you on the right path to maintain good skin health, skin clarity and help in the anti-ageing process.
Contact Us
Your skincare is important to us, and we are here to help you look after your precious organ. To learn more about non-surgical and surgical procedures, of the Skin, at The Lotus Institute or to book your consultation with Dr. Peter Widdowson our Plastic, Reconstructive and Aesthetic Surgeons, please call us on (07) 55094488.
Blog written by: Executive Assistant Dallis Pavey